Visa assistance for foreign students of Flying Academy in the United States
In order to be granted a visa to participate in flight training at Flying Academy Miami and Los Angeles, all applicants must go through the following steps. The procedure is divided into two parts: Obtaining the I-20 form and obtaining the M-1 visa.
If you need a visa to enter the United States, please let us know. The requirements to obtain an I-20 form (used to apply for the M-1 Visa) are as follows:
Be at least 18 years old
Document at least 12 years of academic education by providing an official copy of a high school diploma or equivalent, translated into English
Document financial ability to fund tuition expenses and personal support for the duration of the program. This documentation MUST be in the form of an official letter from your bank showing the amount of funds available, in US Dollars, sufficient to finance all training, housing, personal expenses, etc., while in the United States
Demonstrate the ability to read, write, and understand the English language
In addition, the USCIS or SEVIS:
Full-time participation of at least 22 training hours per week. Flying Academy (Silver Express), Miami & Los Angeles, requires that a minimum of 10 hours of this be Flight instruction.
Demonstration of financial ability on a continuous basis.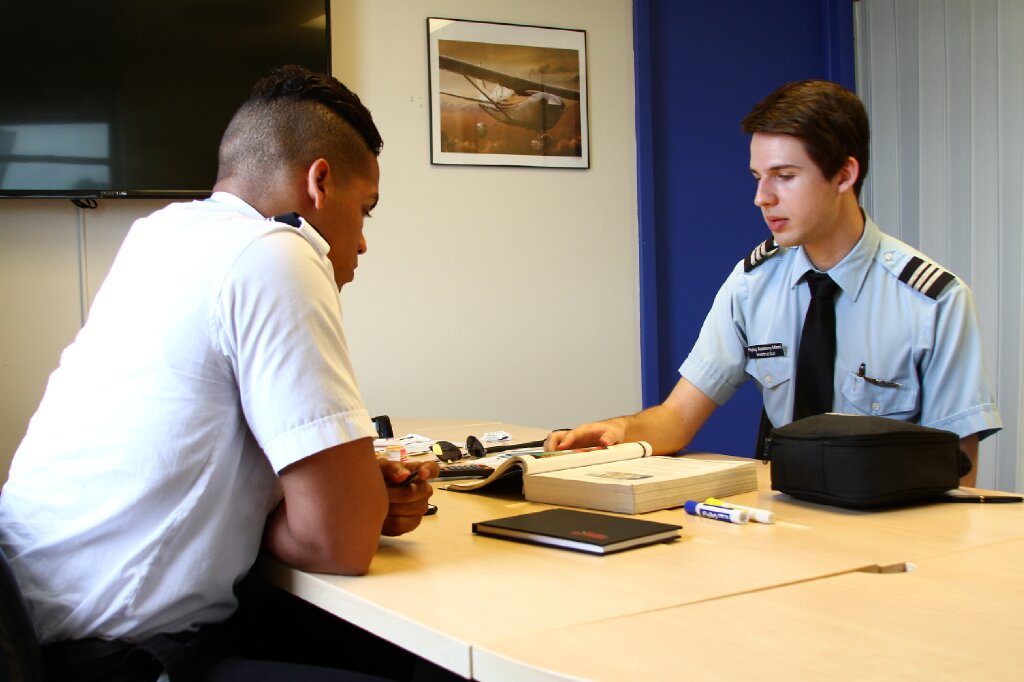 Each applicant is required to provide full and complete information on the application for admission and must submit all documentation with a non-refundable application fee prior to receiving the I-20 Form. Once the school receives the required documentation, an I-20 form will be sent by express delivery. Under an M-1 Visa, international students will not be permitted to work in any capacity, paid or unpaid, while in the U.S.
In some cases, a student may be able to transfer an existing M-1, F-1, or tourist visa to Flying Academy (Silver Express). Requests to transfer visas or transfer schools require adherence to the policies and procedures of the US BCIS. For more information on visa and school transfers, please see the website: USCIS.
The decision to issue an M-1 Visa is a collaborative effort by the U.S. Department of Homeland Security, the U.S. BCIS, and the US Department of State. Training is conducted under Parts 61 and 141 of the FAA Regulations.
There are 7 steps in the process of enrolling in the flight training program at Flying Academy (Silver Express), Miami & Los Angeles:
Complete the online application. We will send you a confirmation of your acceptance once we have processed your application.
Once you receive a confirmation that you were accepted, we will create your user account in our online system and you should pay the First Installment for the Flight Training by bank transfer, out of which $650.00 will be deducted as an enrollment fee. After covering the required payment, we will process your documents and send you the I-20 form electronically.
Pay the SEVIS (Student and Exchange Visitor Information System) fee. You are required to pay the SEVIS fee to Immigration and Customs Enforcement (ICE) prior to applying for the M-1 visa. The fee for M-1 students is $350 (This is not a school fee or your visa application fee).
How to pay the SEVIS fee: Information on SEVIS and the fee can be found at: https://www.fmjfee.com/i901fee/index.html
 Make an appointment with the US Consulate in your country to complete the visa application process. When you call, provide the number from the SEVIS payment receipt. You don't have to pay it again. The consulate will provide a list of the documents necessary to process your application. Have these documents ready when you arrive for your appointment. You may find a local travel agent helpful in preparing your documents. A full description of the VISA process is available on the US State Department website.
Complete the online TSA application, choosing Silver Express as your flight training provider. This requires payment of $130.00 online by credit card for processing your security clearance.
Once you have the appointment with the US Consulate, notify us and we will schedule your flight course.
Accommodation in the United States
Flying Academy can arrange short-term or long-term accommodation for you.
Our consultants will assist in finding you your own flat or a room to rent with other students to keep the costs as lowest as possible.
For any other details, please, feel free to contact us.
TSA procedures assistance for foreign students
In addition to our normal paperwork, all new non-­U.S Citizen students must complete the following:
The TSA Approval Application MUST be started 3­-4 weeks in advance.ONLY if you have VISA approved
Log on to the TSA website: https://www.flightschoolcandidates.gov/
Create a New Candidate Account – a passport and valid email are necessary.
After the account has been created, the student must fill out the application – all eight steps.
Please select Flying Academy as the flight training organization – remember to save all steps and follow instructions.
Scan passport into a computer database.
Return to the homepage, scroll all the way down and click 'submit application'.
Once the application has been submitted, let the Flying Academy office know to be able to validate the student – via 

[email protected]

Once the student has been validated, he or she must log in again and scroll down to the bottom of the page. (A money symbol should appear)
The student must click on the money symbol to pay the $130 processing fee – Payment must be via credit card.
Once the student has paid the fee, they should receive an email from TSA.
Upon arrival, the student must be photographed by the front desk.
To begin flight training each student must be fingerprinted.
Fingerprint forms are available upon request.
Both forms must be filled out in black ink.
You may look up agencies near to airport for FTSP fingerprints in this link or we can assist to book an appointment on arrival.
The cost for fingerprints is $99.00 exact change. (The police department does not provide change)
The completed fingerprint forms must be mailed to TSA if the student has received an email from TSA stating that the documentation has been accepted – if this email has been received, proceed with mailing.
In approximately a week, the student should receive final TSA approval. Please keep checking your email.
If everything has been completed, the student may begin flight training.
Frequently Asked Questions
The Immigration and National Act has specific requirements which must be met by applicants for the student visa. Consulates will determine whether you qualify for the visa. Applicants must demonstrate that they properly meet student visa requirements including:
Live in a residence abroad, with no immediate intention of abandoning that residence
Intend to depart from the United States upon completion of the course of study
Possess sufficient funds to pursue the proposed course of study
Embassies/Consulates can issue your M1 student visa as early as 120 days before the start date on your I-20 form. Students are encouraged to apply for their I-20 early to provide enough time for visa processing. It is recommended that you wait until you receive your Form I-20 before you make an interview appointment at the U.S. embassy or U.S. consulate. Students can enter the U.S. no earlier than 30 days before the study start date shown on your I-20 form
The I-20 form shows that you are eligible for M-1 Student status. The I-20 form is issued by the school (Silver Express). The M1 visa is issued by the US Consulate/Embassy.
What about my spouse and/or dependents?
It is possible for qualifying spouses & dependents to join M1 students in the US as M2 visa holders. Please contact our school official for information.
Do I need health insurance?
Yes. Students are responsible for obtaining health insurance. We have an option for health insurance here at Flying Academy. Please contact us for further information.
Is it possible to take vacation as an M1 Student?
Yes, the amount of vacation depends on your length of study.