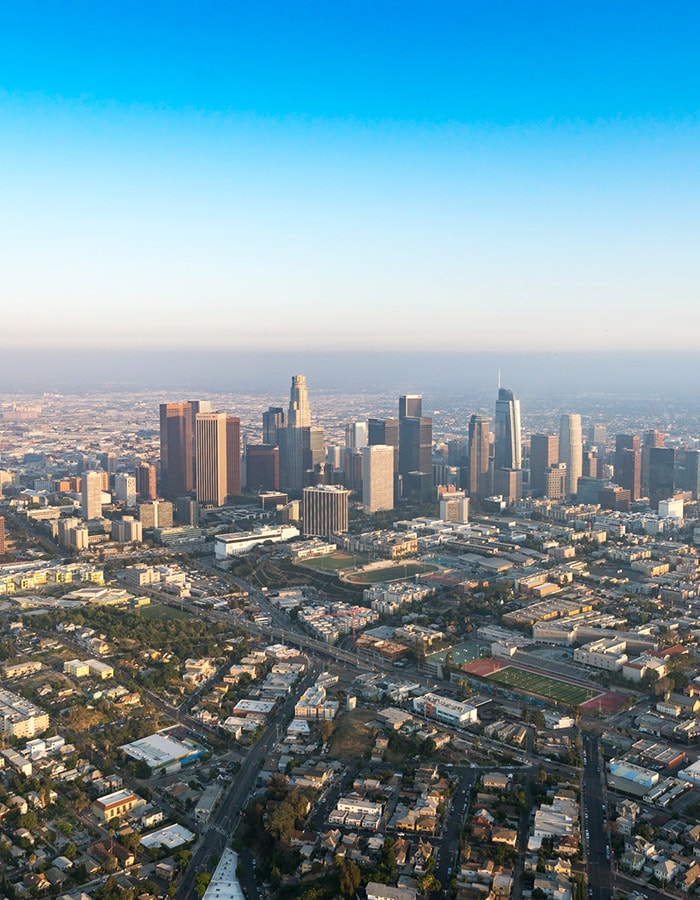 Accommodation in Los Angeles
Our staff will help you find the most suitable place to stay during your study. Flying Academy can provide accommodation to fit everyone's taste and budget. Short-term and long-term accommodations are available on the request.
We offer our students a family house type of accommodation, located 3 miles from the flight school, fully furnished with a complete kitchenette, bathrooms, and internet. The accommodation facilities are always a short drive from Flying Academy.
Students can decide between a single or shared room.
Shared 2 bed room $900 a month or $250 a week.
Single bed room $1800 a month or $500 a week
First story: Living room, Dining room, Kitchen, Laundry room, half bathroom
Second story: Two guest rooms with bathroom, Master bedroom with own bathroom, walk-in closet and balcony.
Bedrooms: 3
All appliance are included: Refrigerator, Dishwasher, Washer, Dryer, Stove, built in microwave, and A/C unit. Furniture: 3 couch set, dining room set, guest bedroom set(full size), and master bedroom set. Master includes adjustable base ( with vibrating massage). Also has NEST Protect carbon monoxide/smoke detector and /thermostat. Both connect via WIFI to Android and iOS.
How much does the accommodation in Los Angeles cost?
Shared room:
1 month – $900
3 weeks – $750
2 weeks – $500
1 week – $250
Daily – $45
Single room:
1 month – $1,800
3 weeks – $1,500
2 weeks – $1,000
1 week – $500
Daily – $80
Transportation in Los Angeles
Transportation via car can always be arranged ahead of time to specific locations, but we also offer Scooter rental for your convenience.
Car services:
From/To Los Angeles International Airport – $150 (each way)
From/To Ontario International Airport – $80 (each way)
Transportation from/to Flying Academy and Accommodation – $6 (each way)
Within 25 Miles of KAJO $20
More than 25 Miles of KAJO varies
Scooter rental:
Flying Academy offers a scooter rental service to all students. With a scooter you can easily get from your accommodation to the training base in Corona Municipal Airport or anywhere else you need to be.
Daily $15
2 weeks $140
3 weeks $170
1 month $200
6 months $900
Other services in Los Angeles
Prepaid SIM Card:
Flying Academy offers convenience with having a valid US SIM card ready to use for when you arrive.
2GB Data Usage, unlimited talk and text within the US, Mexico, and Canada. International calls not included. Sim Card Deposit is required. We take a deposit for the use of our SIM card.
Daily – $5
1 month – $30
SIM Card deposit – $25
Failure to return the SIM Card will result in losing the deposit. Once the SIM Card is returned, the deposit will be returned.
What to visit in Los Angeles?
Santa Monica Pier Beach
The famous pier's Ferris wheel, visitors can zip around on a roller coaster, catch lively street performances, play carnival games and grab a bite to eat from one of the food vendors or at a sit-down restaurant. You can also take a scenic ride along the 26-mile bike path, which runs parallel to the Pacific Ocean and is the longest beach bike path in the world.
Universal Studios Hollywood
One of the most popular attractions in the Los Angeles area is the famous Universal Studios. Hollywood features rides and amusements based on some of the most popular scenes and characters from film and television. Also, If thrills are your thing, there are plenty of hair-raising roller-coasters and rides to go on.
Rodeo Drive
Rodeo Drive is an upscale shopping street in Beverly Hills that features designer stores and small private boutiques. If you love to shop, this is guaranteed the place to go.
Walt Disney Concert Hall
This Frank Gehry-designed concert hall has helped revive downtown Los Angeles, which was once dominated by mundane office buildings and lackluster entertainment options. Now, nightlife and culture burgeon in the area, and the concert hall is at the forefront. The curvaceous, stainless steel exterior is worth a visit alone, but travelers will also want to catch one of the Los Angeles Philharmonic's performances at the hall.